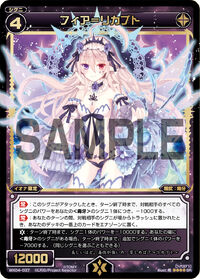 War Spirit: Poison Fang (精武:毒牙, Sei Bu: Dokuga) is a SIGNI class associated with black SIGNI. They were introduced in WX-04 Infected Selector. Poison Fangs are titled by German numbers based on their levels: ein, zwei, drei, vier; one, two, three, four respectively, then stylized with an equal sign. Poison Fangs are named after what would generally be regarded as "underhanded" fighting tactics, such as use of small weapons or harmful biological weapons.
Poison Fangs are designed based on their namesakes. The designs are generally varied as the names are.
Poison Fangs are tied primarily to Hanare, with a few earlier ones being tied to Iona. Poison Fangs revolve around decreasing the power of the opponent's SIGNI.
List of Poison Fang SIGNI
Edit
Main article: Category:Poison Fang Support
Ad blocker interference detected!
Wikia is a free-to-use site that makes money from advertising. We have a modified experience for viewers using ad blockers

Wikia is not accessible if you've made further modifications. Remove the custom ad blocker rule(s) and the page will load as expected.