WX-12 Replied Selector is the twelfth booster set in the WIXOSS TCG.
Features
Edit
Tawil support.
Collaboration cards, including those illustrated by artists associated with Lord of Vermilion.
SIGNI whose colors are different from the colors associated with their class, allowing for decks with multiple colors to be easily built.
Breakdown
Edit
LR: 6
LC: 11
SR: 7
R: 17
C: 17
Re: 22
Secret: 13
 ???: 1
Total: 80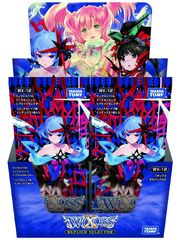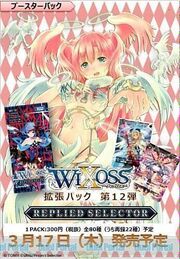 Card List
Edit
| No | Card Name | Rarity | Color | Type | Level |
| --- | --- | --- | --- | --- | --- |
| WX12-001 | Tawil=Fem, Prolonged of Life | LR | White | LRIG | 5 |
| WX12-002 | Yuzuki Four, Vermilion Maiden | LR | Red/Green | LRIG | 4 |
| WX12-003 | Code Piruluk VERMILION | LR | Blue/Black | LRIG | 4 |
| WX12-004 | Dragon-Guided Wave | LR | Red | ARTS | - |
| WX12-005 | Cthulhu Call | LR | Black | ARTS | - |
| WX12-006 | Freefall, Green Fourth Play | LR | Green | Resona | 4 |
| WX12-007 | Yuki, Miko of Deep Emotion | LC | White | LRIG | 3 |
| WX12-008 | Tawil=Tre, the Opener | LC | White | LRIG | 3 |
| WX12-009 | Crystal Break | LC | White | ARTS | - |
| WX12-010 | White Maze Hodesapa | LC | White | Resona | 4 |
| WX12-011 | Yuzuki Three, Flower Bloom Rebellion | LC | Red/Green | LRIG | 3 |
| WX12-012 | Code Piruluk Phi | LC | Blue/Black | LRIG | 3 |
| WX12-013 | Draw Dissolve | LC | Blue | ARTS | - |
| WX12-014 | Arowana Panic | LC | Blue | ARTS | - |
| WX12-015 | #Tyrazaus#, Green Phantom Dragon | LC | Green | Resona | 4 |
| WX12-016 | Umr=Tre, Wielder of the Key of Impartiality | LC | Black | LRIG | 3 |
| WX12-017 | Dark Art †MGT† | LC | Black | Resona | 3 |
| WX12-018 | Gabrielt, Future of the True Angel | SR | White | SIGNI | 5 |
| WX12-019 | Flathro Lieutenant General, Crossbow Flame | SR | Red | SIGNI | 4 |
| WX12-020 | Daihouika, Water Phantom Princess | SR | Blue | SIGNI | 4 |
| WX12-021 | #Spazaus#, Phantom Dragon Princess | SR | Green | SIGNI | 4 |
| WX12-022 | Hawk, Phantom Beast | SR | Green | SIGNI | 3 |
| WX12-023 | Code Ancients Hellboros | SR | Black | SIGNI | 5 |
| WX12-024 | Code Heart †CCM† | SR | Black | SIGNI | 4 |
| WX12-025 | Alkes, Natural Star | R | White | SIGNI | 3 |
| WX12-026 | Leguas, Shin Armor | R | White | SIGNI | 2 |
| WX12-027 | Sahohime, Spring Princess of Smiling | R | White | SIGNI | 2 |
| WX12-028 | Velocira, Phantom Dragon | R | Red | SIGNI | 3 |
| WX12-029 | Aquamarine, Natural Stone | R | Red | SIGNI | 1 |
| WX12-030 | Code Art PSM | R | Blue | SIGNI | 2 |
| WX12-031 | Vanadium, Natural Source | R | Blue | SIGNI | 2 |
| WX12-032 | TORNADO | R | Blue | Spell | - |
| WX12-033 | Souryuu, Phantom Beast | R | Green | SIGNI | 3 |
| WX12-034 | Sunabase, Third Play | R | Green | SIGNI | 3 |
| WX12-035 | Recorders, Tone of Nostalgia | R | Green | SIGNI | 3 |
| WX12-036 | Aphud, Phantom Insect | R | Black | SIGNI | 3 |
| WX12-037 | Metsumi, Fallen Cannon Daughter | R | Black | SIGNI | 3 |
| WX12-038 | Zwei=Entora | R | Black | SIGNI | 2 |
| WX12-039 | Sayuragi, Lesser Sin of Wandering Fluctuation | R | Black | SIGNI | 1 |
| WX12-040 | Code Maze Spanacra | C | White | SIGNI | 3 |
| WX12-041 | Code Maze Ekarite | C | White | SIGNI | 2 |
| WX12-042 | Code Maze Krelim | C | White | SIGNI | 1 |
| WX12-043 | Flathro Second Lieutenant, Roaring Flame | C | Red | SIGNI | 3 |
| WX12-044 | Flathro Sergeant, Explosive Flame | C | Red | SIGNI | 2 |
| WX12-045 | Flathro Lance Corporal, Small Flame | C | Red | SIGNI | 1 |
| WX12-046 | Aorika, Water Phantom | C | Blue | SIGNI | 3 |
| WX12-047 | Yariika, Water Phantom | C | Blue | SIGNI | 2 |
| WX12-048 | Hotaruika, Water Phantom | C | Blue | SIGNI | 1 |
| WX12-049 | INSIGHT | C | Blue | Spell | - |
| WX12-050 | #Iguanodon#, Phantom Dragon | C | Green | SIGNI | 3 |
| WX12-051 | #Stegoceras#, Phantom Dragon | C | Green | SIGNI | 2 |
| WX12-052 | #Dracorex#, Phantom Dragon | C | Green | SIGNI | 1 |
| WX12-053 | Code Art †DRS† | C | Black | SIGNI | 3 |
| WX12-054 | Code Art †JV† | C | Black | SIGNI | 2 |
| WX12-055 | Code Art †SC† | C | Black | SIGNI | 1 |
| WX12-056 | Purple Stain | C | Black | Spell | - |
| WX12-057 | Tawil=Fem, Prolonged of Life | Secret | White | LRIG | 5 |
| WX12-058 | Cthulhu Call | Secret | Black | ARTS | - |
| WX12-059 | Svarog, Phantom Dragon Princess | Secret | Red | SIGNI | 4 |
| WX12-060 | Code Heart †CCM† | Secret | Black | SIGNI | 4 |
| WX12-061 | Sayuragi, Lesser Sin of Wandering Fluctuation | Secret | Black | SIGNI | 1 |
| WX12-062 | Alfou, Black-Clothed Bride | Secret | Black | LRIG | 0 |
| WX12-CB01 | Bolshack, Phantom Dragon | R | Red | SIGNI | 3 |
| WX12-CB01 | Bolshack, Phantom Dragon | Secret | Red | SIGNI | 3 |
| WX12-CB02 | Punito, Phantom Beast | R | Green | SIGNI | 2 |
| WX12-CB02 | Punito, Phantom Beast | Secret | Green | SIGNI | 2 |
| WX12-Re01 | Milulun Zepto | Re | Blue | LRIG | 4 |
| WX12-Re02 | Chemical Flash | Re | Blue | ARTS | - |
| WX12-Re03 | Welcome Draw | Re | Blue | ARTS | - |
| WX12-Re04 | Halo Effect | Re | Black | ARTS | - |
| WX12-Re05 | Jealousy Gaze | Re | Black | ARTS | - |
| WX12-Re06 | Thousand Punish | Re | Black | ARTS | - |
| WX12-Re07 | Rainbow Art | Re | Colorless | ARTS | - |
| WX12-Re08 | Athena, Goddess of Blessing | Re | White | SIGNI | 4 |
| WX12-Re09 | Duranda, Greatsword | Re | White | SIGNI | 3 |
| WX12-Re10 | Aglaea, Innocent Brightness | Re | White | SIGNI | 1 |
| WX12-Re11 | Mikagami, Treasured Instrument | Re | White | SIGNI | 1 |
| WX12-Re12 | Ruriru, Natural Stone | Re | Red | SIGNI | 1 |
| WX12-Re13 | Rising Fist of the Flame Dragon | Re | Red | Spell | - |
| WX12-Re14 | Nickel, Natural Source | Re | Blue | SIGNI | 4 |
| WX12-Re15 | Code Art DTP | Re | Blue | SIGNI | 3 |
| WX12-Re16 | CRYSTAL SEAL | Re | Blue | Spell | - |
| WX12-Re17 | Tsubaki, Natural Plant | Re | Green | SIGNI | 3 |
| WX12-Re18 | Sacrifice | Re | Green | Spell | - |
| WX12-Re19 | Cerberun, Three-Headed Barrage | Re | Black | SIGNI | 3 |
| WX12-Re20 | Belphego, Lustful Sinner | Re | Black | SIGNI | 2 |
| WX12-Re21 | Torchen Whip | Re | Black | Spell | - |
| WX12-Re22 | Next Ready | Re | Colorless | Spell | - |
| WX12-TR01 | Haity | Secret | White | LRIG | 0 |
| WX12-TR02 | Remember | Secret | White | LRIG | 0 |
| WX12-TR03 | Tawil | Secret | White | LRIG | 0 |
| WX12-TR04 | Alfou | Secret | Black | LRIG | 0 |
| WX12-TR05 | Umr | Secret | Black | LRIG | 0 |
| WX12-??? | Alfou |  ??? | Black | LRIG | 0 |