Recent Blogs
Create blog post
So, for some research, I'm wondering if anyone could help for Umr vs Tawil show off using their most recent cards.

Like, the signis, strategy and the like, since I haven't touched WIXOSS for like fore…

Read more >

Hello there folks, I'm pretty new to the game and so I decided to go with the newest LRIG's I could find to fit what I would like. Currently I only have three decks built and would appreciate any hel…

Read more >

hopefully this blog catches on like the first one... title is self explanatory







oh yea, volume 5 of Wixoss magazine came in the mail today so hooray!






















this blog is mostly trash tho

Read more >
See more >
Poll
Here's an utterly banal question: Out of all of the TCG-playable LRIGs, which is your favorite?

"Hope, desire, greed."
"Girls with each of these feelings in their hearts are being swallowed into the vortex of a dangerous game…"
Welcome to selector wikia WIXOSS, an encyclopedia about the WIXOSS franchise that anyone can edit.
WIXOSS (ウィクロス, U~ikurosu) is a Japanese media franchise comprised of several parts:
The aim of this wiki is to record every card associated with the WIXOSS TCG,
and to summarize all information pertaining to the original anime series selector infected WIXOSS.
Help and contributions are very welcome!
All contributions to selector wikia WIXOSS are considered to be released under the CC-BY-SA
(see Wikia:Licensing for details).
Wiki Activity • Community Portal • Recent Changes
To search for cards with two specified qualities, use Special:CategoryIntersection.
WIXOSS (ウィクロス, U~ikurosu) is a Japanese collectible card game published and developed by Takara Tomy.
selector infected WIXOSS
Edit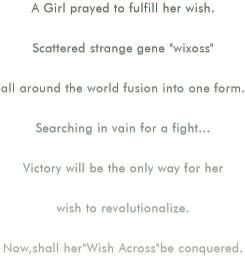 selector infected WIXOSS (セレクター インフェクテッド ウィクロス, Serekutā Infekuteddo U~ikurosu) is an original anime series by LRIG, a collaboration of Warner Home Video, Takara Tomy, and J.C.STAFF, that was launched on April 2014.
Animation Staff:
Original Work: LRIG
Director: Takuya Satō
Series Composition: Mari Okada
Character Design: Kyuta Sakai
Music: Maiko Iuchi
Sound Director: Yoshikazu Iwanami
Animation Production: J.C.STAFF
Theme Song: Kanon Wakeshima
Official Links
Edit