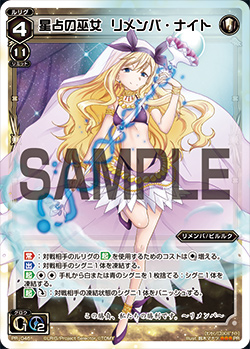 For the character in the manga, see Remember.
Remember (リメンバ, Rimenba) is a white LRIG type. However, although all Remember cards are white, they predominantly include blue ener in their costs. Almost all Remember cards have the Piruluk LRIG type. As a result, Remember cards can grow to and from Piruluk, and Piruluk-limited cards can be used with Remember.
Remember focuses on freezing the opponent's SIGNI and banishing frozen SIGNI. Instead of wearing the opponent down with repeated discard, Remember plays aggressively, banishing SIGNI to deal damage to the opponent.
LRIG cards
Edit
Remember support cards
Edit
Ad blocker interference detected!
Wikia is a free-to-use site that makes money from advertising. We have a modified experience for viewers using ad blockers

Wikia is not accessible if you've made further modifications. Remove the custom ad blocker rule(s) and the page will load as expected.