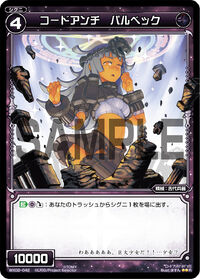 Machine Spirit: Ancient Weapon (精械:古代兵器, Sei Kai: Kodai Heiki) is a SIGNI class associated with black SIGNI.
Ancient Weapons are based off of a variety of things, all ancient and sometimes mechanical in nature. Among their influences are mythical or out-of-place artifacts, ancient architecture, instruments of torture, beings from the Cthulhu mythos, cryptids, and even other intellectual properties.
Ancient Weapon SIGNI revolve around returning SIGNI from the trash to the field. Many Ancient Weapons have abilities that facilitate or encourage bringing back SIGNI from the trash, like abilities that mill cards from your own deck, costs that require putting your own SIGNI into the trash, and abilities that trigger whenever a SIGNI enters the field from the trash.
List of Ancient Weapons
Edit
Main article: Category:Ancient Weapon Support
Ad blocker interference detected!
Wikia is a free-to-use site that makes money from advertising. We have a modified experience for viewers using ad blockers

Wikia is not accessible if you've made further modifications. Remove the custom ad blocker rule(s) and the page will load as expected.