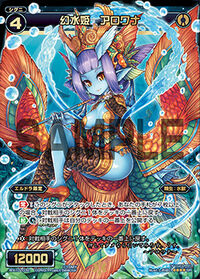 Living Spirit: Water Beast (精生:水獣, Seisei: Mizujū) is a SIGNI class associated with blue SIGNI. All Water Beasts are titled "Water Phantom" (幻水, Gensui) and named after various marine life.
Water Beasts are all named marine life, predominantly kinds of fish, although their designs do not always reflect their name. Many Water Beasts are mermaids or appear to be a part of a sea creature.
Water Beasts primarily focus on draw abilities to improve hand conditions.
Another set of Water Beasts under Eldora focus on manipulation of the Life Cloth and activating Life Bursts.
List of Water Beast SIGNI
Edit
List of Water Beast Resona
Edit
Main article: Category:Water Beast Support
Ad blocker interference detected!
Wikia is a free-to-use site that makes money from advertising. We have a modified experience for viewers using ad blockers

Wikia is not accessible if you've made further modifications. Remove the custom ad blocker rule(s) and the page will load as expected.