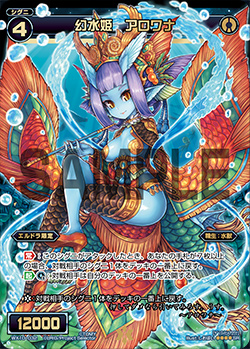 Living Spirit: Water Beast (精生:水獣, Seisei: Mizujū) is a SIGNI class associated with blue SIGNI. All Water Beasts are titled "Water Phantom" (幻水, Gensui) and named after various marine life.
Water Beasts are all named marine life, predominantly kinds of fish, although their designs do not always reflect their name. Many Water Beasts are mermaids or appear to be a part of a sea creature.
The majority of Water Beasts primarily focus on draw abilities to improve hand conditions. Water Beasts used by Eldora focus on manipulation of life cloth and activating Life Bursts.
List of Water Beast SIGNI
Edit
List of Water Beast Resona
Edit
Main article: Category:Water Beast Support