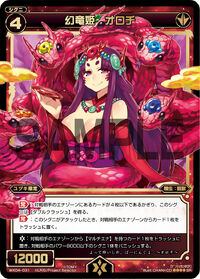 Living Spirit: Dragon Beast (精生:龍獣, Sei Sei: Ryū Jū) is a SIGNI class primarily associated with red, but also associated with some green SIGNI. They were first introduced in WX-04 Infected Selector. Each of them have the title "Phantom Dragon" (幻竜, Genryū). They are named after mythological draconic or serpentine figures, or dinosaurs.
Dragon Beasts, although named dragons, are also comprised of a variety of reptilian creatures that are loosely related to dragons or serpents.
Dragon Beasts are closely linked with Yuzuki. Dragon Beasts focus on burning the opponent's ener by sending their cards from the Ener Zone to the trash, especially Multi Ener cards, and many of their abilities are also linked to restricting the opponent's Ener Zone to a few cards.
List of Dragon Beast SIGNI
Edit
List of Dragon Beast Resona
Edit
Main article: Category:Dragon Beast Support
Ad blocker interference detected!
Wikia is a free-to-use site that makes money from advertising. We have a modified experience for viewers using ad blockers

Wikia is not accessible if you've made further modifications. Remove the custom ad blocker rule(s) and the page will load as expected.