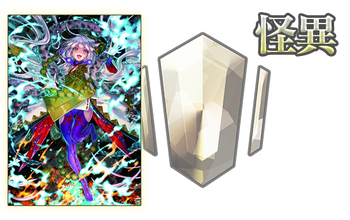 Living Spirit: Apparition (精生:怪異, Sei Sei: Kaii) is a SIGNI class primarily associated with white SIGNI. Apparition SIGNI are based on ghosts and monsters of folklore.
Apparition SIGNI are associated with the LRIG Dona and use the Layer mechanic, allowing them to give their abilities to other Apparition SIGNI.
List of Apparition SIGNI
Edit
Main article: Category:Apparition Support
Ad blocker interference detected!
Wikia is a free-to-use site that makes money from advertising. We have a modified experience for viewers using ad blockers

Wikia is not accessible if you've made further modifications. Remove the custom ad blocker rule(s) and the page will load as expected.