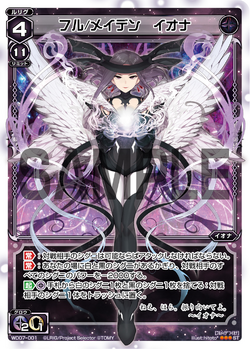 For the character in the anime, see Yuki.
Iona (イオナ) is a black and white LRIG. Iona cards focus on controlling the opponent's SIGNI, either by forcing them to attack, decreasing their power, or by arranging the positions of both player's SIGNI so that the opponent can't attack optimally.
LRIG cards
Edit
Iona support cards
Edit
Ad blocker interference detected!
Wikia is a free-to-use site that makes money from advertising. We have a modified experience for viewers using ad blockers

Wikia is not accessible if you've made further modifications. Remove the custom ad blocker rule(s) and the page will load as expected.