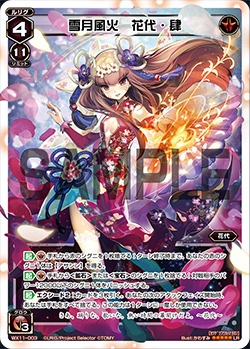 For the character in the anime, see Hanayo.
Hanayo (花代) is a LRIG type associated with red LRIG cards.
Hanayo's gameplay style revolves around attacking and aggression. Many of her cards increase the power of SIGNI during your turn, making them stronger on the offense than the defense. To supplement her offensive power, Hanayo decks often run red removal to push through attacks and break through SIGNI that would otherwise be immovable.
LRIG cards
Edit
Hanayo support cards
Edit
Ad blocker interference detected!
Wikia is a free-to-use site that makes money from advertising. We have a modified experience for viewers using ad blockers

Wikia is not accessible if you've made further modifications. Remove the custom ad blocker rule(s) and the page will load as expected.