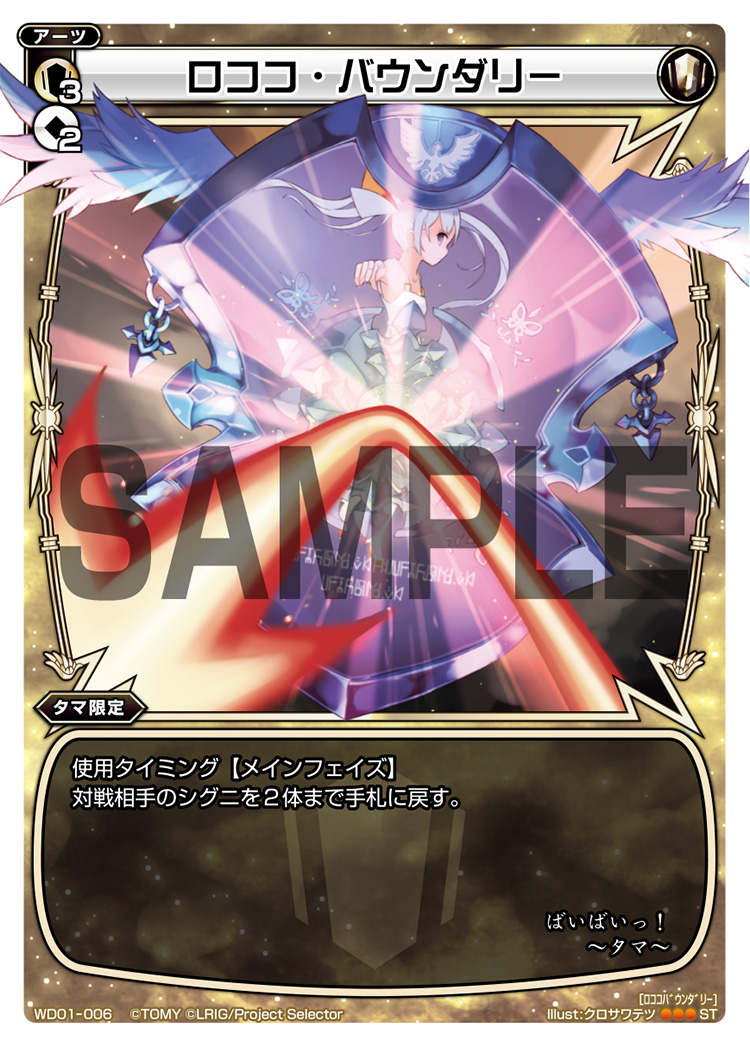 ARTS (アーツ, Ātsu) is one of the card types in WIXOSS. ARTS cards thematically represent a LRIG's special abilities. ARTS are placed in the LRIG deck at the start of the game and are used from there.
After all of an ARTS's abilities are resolved, it goes to the LRIG trash.
Parts of an ARTS Card
Edit
Located in the top-right corner.
Determines the color of the ARTS card.
Located in the top-left corner.
Like spells, all ARTS have a cost that must be paid before they can be used.
Limiting Condition
Edit
Located at the center-left.
However, restricted ARTS may still be used for the abilities of other cards, such as the ability of Kareira, Water Phantom.
Use Timing
Edit
Located at the center-right.
Each ARTS has a special cast condition, called a Use Timing which dictates the time at which a particular ARTS can be used. ARTS can have multiple Use Timing, but can still only be used once.

Main Phase (

メインフェイズ

Mein Feizu): Can be used during your Main Phase.
Attack Phase (

アタックフェイズ

Atakku Feizu): Can be used during the ARTS use step of either player's attack phase, before any SIGNI attacks. The attacking player uses attack phase ARTS first, and may use as many as they want. Then, the defending player uses attack phase ARTS, as much as they want.
Spell Cut-In (

スペルカットイン

Superu Katto In): Can be used when an opponent's spell is used. You may use multiple Spell Cut-In ARTS on your opponent's spell. (You can't use Spell Cut-Ins in response to your own spell.)
Shown in the text box of the card.
Contains the ability of the ARTS.
In some cases, multiple abilities may be listed and the player is given the choice to select the ability of the ARTS. This is officially called a "mode."
Ad blocker interference detected!
Wikia is a free-to-use site that makes money from advertising. We have a modified experience for viewers using ad blockers

Wikia is not accessible if you've made further modifications. Remove the custom ad blocker rule(s) and the page will load as expected.